Audio-Technica ATH-WP900 Flame Maple Wooden Headphone
Audio-Technica ATH-WP900 Flame Maple Wooden Headphone
Member Price: SGD 799.20
Login as Stereo Member to purchase at special member price! Click here to sign up.
FREE Standard Shipping
available for this item
ESTIMATE AVAILABILITY END OCT 2020
Audio-Technica ATH-WP900 Flame Maple Wooden Headphone
Flame Maple premium wooden headphones with 53mm drivers, balanced cables, and made in Japan
Made in Japan
Careful manufacturing that attracts Japanese craftsmanship

In ATH-WP900, the process from processing to the painting of "Flame Maple" housing is carried out by Fujigen, a leading guitar manufacturer in Japan. After carefully painting and polishing beautiful wood one by one, Audio Technica's factory in Japan is produced with careful assembly by craftsmen and strict inspection and quality standards. Removable high-quality A2DC connector, a specially designed connector with excellent audio quality and durability.
The connector tip is uniquely designed to eliminate sound interruptions and noise. Stable signals are transmitted for any movement, and sound information can be conveyed accurately. You can use it regularly for a long time due to the durability that does not change even if you repeat listening.
A2DC: Audio Designed Detachable Coaxial (2 types of cables available) 1.2m balanced cable (φ4.4mm 5-pole plug) and 1.2m for use with Hi-Res audio players and balanced headphone amplifiers A cord (φ3.5mm stereo mini-plug) is included. It provides a high-resolution sound with enhanced separation of left and right sounds. (Swivel mechanism convenient for carrying) Headphones can be folded flat. Put it in the included pouch and carry it smartly.

The headphones combine aesthetics with HiFi listening. The housing is made entirely out of maple wood which is used in violins and guitars. It delivers an ideal response and accuracy because of the stiff and dense character of the wood.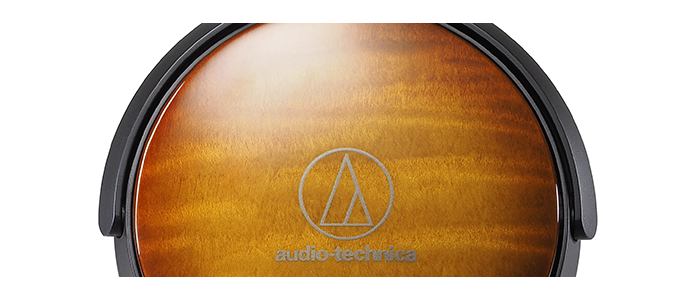 Sound

The ATH-WP900 has 53mm drivers with DLC (diamond-like carbon) coating delivering exceptional full-range audio. The high power magnet ensures an astonishing low range of audio reproduction. The baffle improves airflow which results in an improved low to mid-range.
Comfortable fit

Smooth synthetic leather is used for the ergonomic earpads and headband. The foam pads provide a comfortable fit for long periods of listening.
Detachable A2DC connectors
The detachable connectors provide a secure connection for stable signal transmission and are built to handle long listening sessions.

*A2DC:Audio Designed Detachable Coaxial
DLC coating
Hi-Fi sound-designed exclusively for portable use


A newly designed φ53mm driver that adopts a DLC (Diamond-Like Carbon) coated diaphragm that improves the high-frequency response plays back a full range of audio. The top-mount PCB system that smoothes the airflow accurately controls the movement of the diaphragm. Realizes excellent low-frequency characteristics with a strong magnet.
New shape baffle
New shape baffle for clear mid-low range


Adopted a new baffle with an angle. Optimizes the ventilation of the driver's front and rear chambers in the baffle for clear mid-low range playback without distortion. In addition, this structure naturally tilts the ear pads and wraps them evenly around the ears, resulting in high sealing and wearability.
Comfortable listening
A fit that can be combined with music


Smooth artificial leather is used for the head pad and earpad (three-dimensional sewing) to fit gently from the top of the head to the ear. Both the head pad and earpad are less tiring due to low resilience and are comfortable for long periods of listening.
Swivel-flat design

A swivel design enables the headphones to lie flat for easy storage and portability and can be stored inside the included carrying pouch.

What's inside the Box?
Detachable cable with 3.5mm (3-pole stereo mini-plug)
Detachable balanced cable with 4.4mm (5-pole balanced mini-plug)
Carrying pouch

Specifications
Type: Closed-back dynamic
Driver: 53 mm
Sensitivity: 100 dB/mW
Frequency response: 5 to 50,000 Hz
Maximum input power: 1,000 mW
Impedance: 38 ohms
Input jack: A2DC connector jack
Weight (without cable): Approx. 243 g (8.6 oz)

Specifications
Type: Closed-back dynamic
Driver: 53 mm
Sensitivity: 100 dB/mW
Frequency response: 5 to 50,000 Hz
Maximum input power: 1,000 mW
Impedance: 38 ohms
Input jack: A2DC connector jack
Weight (without cable): Approx. 243 g (8.6 oz)