Westone B30 with Bluetooth Cable Three Balanced-Armature Drivers
Westone B30 with Bluetooth Cable Three Balanced-Armature Drivers
Regular Price
SGD 649.00
Special Price
SGD 529.00
Login as Stereo Member to purchase at special member price! Click here to sign up.
FREE Standard Shipping
available for this item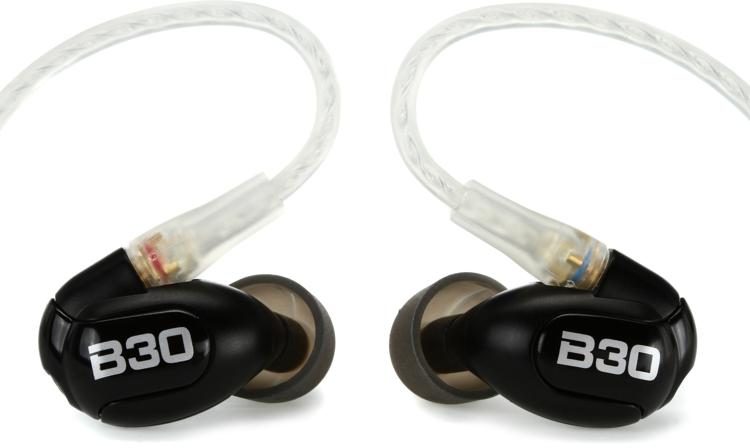 Westone B30 with Bluetooth Cable
Three Balanced-Armature Drivers

Meets the Demands of Modern Music
Modern music demands enhanced low-frequency response, and Westone's B30 earphones deliver it in spades — along with rich, detailed midrange and shimmering, articulate high end. Three balanced-armature drivers yield an impressive 15Hz–18kHz frequency response, ensuring that they can accurately reproduce today's sounds. B30s ship with both STAR silicone and True-Fit foam tips to ensure a comfortable, personalized fit. You also get a high-performance Bluetooth cable, high-definition silver MMCX cable, and crush-resistant deluxe carrying case. Westone's B30 earphones are certain to please today's discerning music lovers.

True-Fit universal design for comfort and isolation
Short of their custom-fit personally molded earpieces, Westone's True-Fit technology delivers the best acoustic seal and comfort Sweetwater has found in an earphone. Drawing on 60 years of experience crafting earpieces for highly technical and medical applications, no one knows ear ergonomics like Westone. Coupled with their excellent eartips, the B30's low-profile and lightweight earpieces are so comfortable, you'll hardly feel them, yet they can easily block out up to 25dB of external sound.

Balanced-armature drivers offer comfort and detail
Unlike traditional earphones, which use moving-coil speakers, Westone's B30 features their innovative balanced-armature drivers. These remarkably compact and incredibly efficient transducers take up far less space than typical drivers, without losing the slightest bit of sonic detail. What's more, when it comes to multi-driver earphones such as the B30, the small size of these transducers allows the earpieces to seal well and sit comfortably in your ears while providing superior isolation.

Bluetooth cable supplies top-notch wireless sound
When you listen to B30 earphones, you'll experience unprecedented detail, clarity, and dynamics, thanks to their Bluetooth cable. The Bluetooth cable employs aptX, which ensures top-notch sound. You also get eight hours of battery life and a 32-foot operating range. And if you're listening to music in a harsh environment, fear not — the Bluetooth cable is IPX-4 rated, which means that it's both water- and dust-resistant. The B30's Bluetooth cable features MMCX connectors, which allow it to work with any Westone custom-fit or universal-fit earphones.

High-definition silver MMCX cable
Once you hear your favorite music on your Westone earphones, you won't want to go back to your regular earbuds. Swap out the Bluetooth cable with the included bonus 52" silver MMCX cable. This high-definition cable features four strands of low-resistance, pure-silver-plated copper alloy, braided around a center strengthening core. Low-resistance silver-plated copper wire improves electrical conductivity, which supplies you with unmatched clarity and detail.


Complete accessory package included
Find the perfect fit, with a full set of eartips. B30 earphones come with five sizes of both True-Fit foam tips and patented STAR silicone tips. You can customize the look of your earpieces with two interchangeable faceplates. Pro tip: use two different colors to make it super easy to tell the left and right sides apart. Protect your earphones with the included deluxe zippered carrying case.

Westone B30 Earphones Features:
3-driver earphones with precision balanced-armature drivers
Loaded with separate low-, mid-, and high-frequency drivers
Delivers enhanced bass to meet the demands of today's music
Bluetooth cable supplies 32 feet of wireless operation
Includes additional high-definition silver MMCX cable
Define your personal style with replaceable faceplates in metallic orange or metallic black
Includes 5 sizes of both True-Fit foam and STAR silicone eartips
Includes a deluxe zippered carrying case and wax removal tool
Specifications
Type:

In-ear

Drivers:

3-driver

Frequency Range:

15Hz-18khz

Impedance:

30 ohms

Noise Attenuation:

25dB

Sensitivity:

107dB SPL @ 1mW

Plug Type:

1/8"

Wireless:

Bluetooth

Cable Length:

52"

Replaceable Cable:

Yes

Color:

Orange/Black
Specifications
Type:

In-ear

Drivers:

3-driver

Frequency Range:

15Hz-18khz

Impedance:

30 ohms

Noise Attenuation:

25dB

Sensitivity:

107dB SPL @ 1mW

Plug Type:

1/8"

Wireless:

Bluetooth

Cable Length:

52"

Replaceable Cable:

Yes

Color:

Orange/Black